Cemeteries | Photos | Researcher | Pioneers | Records | Schools | Census |
Bill & Ella Seymour Etter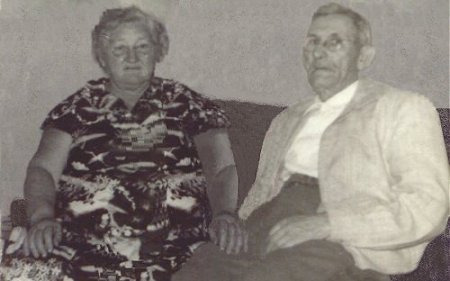 On June 7, 1884 William (Bill) Emory Etter was born in Jack County, Texas to John Henry (son of Henry C & Nancy "Utt") and Amanda Jane (daughter of John R. & Susan Elizabeth "Sherrell" Armstrong) Etter.
He had five sisters, Victoria, Alice, Cora, Mattie, and Mary and had two half sisters, Minnie and Octavia. He was one of five boys, Emor, Henry, Nathaniel and Robert.
Bill married Pearl Alice McDaniel on July 19, 1903 in Jack County, Texas. They had three sons, Leslie, Reese and Harold. Harold died around a year old, Alice died less than a year and Reese died around five years old. Pearl died after 1910 and was buried in the Bailey Cemetery, Grady, Oklahoma.
On June 21, 1917 Bill married Ella Seymour in Chickasha, Grady, OK. They lived in Rush Springs before moving to Comanche County in the mid 20s. Ella Elizabeth Seymour was born October 7, 1898 in Forney, Texas to Thomas Hunter (son of Robert & Elizabeth Ingram) & Josephine Evalina (daughter of Jeremiah Henry & Sarah "Mays" Taylor) Seymour.
They were the parents of fifteen children. With the exception of one, all the children were born in Grady or Comanche County. Billl passed away January 13, 1961 at home in Fletcher, and was buried at Fletcher Cemetery. Ella passed away on November 17, 1973 and was buried beside Bill on November 19, 1973.
Family of Margie Etter & Sharon Burnett-Crawford
Comanche County OKGenWeb
County Coordinator: Linda Simpson


This Page Last Updated Wednesday, 13-May-2015 08:20:44 EDT
Copyright © 2018