Hillside School
District # 58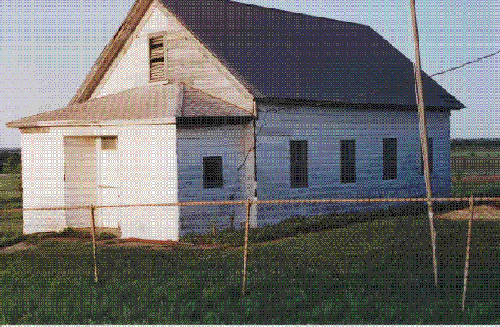 Hillside School is located 4 miles south of Lawton's 11th and Lee Blvd. It was built in 1901. The school is one of
very few remaining one-room schools still standing. Believed to have closed in the spring of 1965. In the early 1970s,
the school served as a church.

We want to thank Rita Fails Walker for the following information of Hillside School:
I went to second grade at Hillside and my Aunt Velma Lee Doughty taught 1st grade-12th grade there. My
mother, Oleta Fails was the cook for that year. Aunt Lee and my mother were really great people. They
made sure that all holidays were special.
It was a great place, I will never forget it and it is a shame that not everyone gets to have that experience. Aunt
Lee would stop and pick up all the kids on that road that went to Hillside and they would ride on the running board.
My mother's cooking was the best, we had wonderful lunches.
We would play baseball in the field next to the school. We had lots and lots of fun. I am 63 years old now so it has
been awhile since I had been in the second grade.
One time, we had a box supper and Mother put and angel on top of mine, I thought it was the most beautiful box!