Custer County
County Seat - Arapaho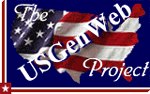 Home | Archives | Cemeteries | Obits | Queries | Look ups | Surnames | Resources

"Links to web sites that are not part of the US Gen Web Project are provided for your convenience and do not imply any endorsement of the web sites or their contents by The US Gen Web Project."
GOODMAN FAMILY
DAVID GOODMAN & AGNES HARRIS
David Goodman was born ca1805 in Virginia. He was married on 18 October, 1825, in Henry County, Virginia, to Agnes Harris. Agnes was born ca1802 in Virginia. In the 1833 Henry County, Virginia Deed Book 11, page 259, from the Estate of Peter Harris, it states that "David Goodman, son of David Goodman, deceased, and Agnes his wife" sell their share of the estate. This is proof David's father was also David, and probably Agnes is the daughter of Peter Harris. Peter Harris is listed in the 1830 census of Henry County, Virginia, as being between sixty and seventy years of age.
David and Agnes Goodman sold their property in Henry County, Virginia, and moved to Missouri about 1837 with their four children. This family is found in the 1840 census of Gasconade County, Missouri, page 250, with two young males and 2 young females.
In 1841, part of Gasconade County was made into Osage County, Missouri. David Goodman is listed in the 1850 census of Osage County, Missouri, page 445 as:
DAVID GOODMAN-45-b.VA-farmer; Agnes-48-b.VA; Elizabeth-19-b.VA; Polly-17; George-15; David-12-b.VA; Martha-10-b.MO.
Daughter Elizabeth Goodman was married on 12 May, 1853, in Osage County to John M. Parks (Book A, page 193). Also married in Osage County was son George Goodman to Mariah Sutton, on 1 November, 1855 (Book A, page 238).
The Goodmans left Missouri about 1858, and next settled in Texas. They are found in the Hillsborough, Hill County, Texas census of page 108 as: DAVID GOODMAN-56-b.VA-farmer; Agnes-59-b.VA; D.E.-22-m-b.MO; Martha-17-b.MO.
JOHN M. PARKS-48-b.VA-farmer; Elizabeth (dau of David & Agnes
Goodman) –30-b.VA; Thos.-18-b.VA; Lewis-16-b.VA; Georganna-13-f-b.VA; John W-11-b.MO; David-6-b.MO; Lafayette-4-m; Calvin-3-b.MO; Elizabeth-1-b.TX
GEORGE W. GOODMAN (son of David & Agnes) –26-b.VA-farmer; Mariah-
20-b.MO; Sarah E-3-b.MO; John A-7/12-b.MO
The Goodmans were Southern sympathizers, so when the War Between the States
started, the two sons of David E. and Agnes joined the Confederacy on 24 March, 1862, in Corsicana. George and David mustered into Captain J.L. Halbert's Company, Speight's Regiment, Texas Infantry, at Camp Speight near William, Texas, on 16 April, 1862. Son David died on 11 November, 1862 at Camp Nelson, Arkansas.
No further information was found on David and Agnes Goodman, nor their daughters.
GEORGE W. GOODMAN & MARIAH SUTTON
George Washington Goodman, son of David Goodman and Agnes Harris, was born 13 March, 1835, Henry County, Virginia. He was married on 1 November, 1855, Osage County, Missouri, to Mariah Sutton. Mariah was born 26 March, 1839, Osage County, Missouri, the daughter of Benjamin C. Sutton and Sarah Ann Pea. Benjamin Cutler Sutton, son of John B. Sutton and Mercy Ann Cutler, was born 18 February, 1811, in Ohio, and was married on 20 December, 1833 to Sarah Ann Pea. Sarah was born 17 September, 1817, in Indiana, the daughter of Jacob Pea and Martha Hepner. The Suttons were early pioneers of Osage County, Missouri.
George and Mariah Goodman are found in the 1870 census of Hillsborough, Hills County, Texas, page 399, and the 1880 of Archer County, Texas. With the opening of Oklahoma, George and Mariah settled in the Stafford area, west of Clinton, in Custer County. George Washington Goodman died on 6 June, 1919, in Clinton, Oklahoma. His wife Mariah signed his death certificate, saying he was a retired stockman, his father was David Goodman, and his mother was Mrs. Harris. The local newspaper, Arapahoe Bee, had his obituary notice in their 13 June, 1919, copy.
Mariah applied and received a pension as the widow of George W. Goodman, Confederate soldier, from Oklahoma. She was sitting in her rocking chair reading her Family Bible when she stood up rather quickly, then fell down. Mariah died three days later on 3 March, 1925, in Stafford. George and Mariah are buried at the Stafford Cemetery, Custer County, Oklahoma. They were the parents of eight children:
Children: 8
I. Sarah Elizabeth Goodman was born 27 Dec.1857, Osage Co, MO. She was
married three times: first two husbands were Smiths; mar. 4 Jan. 1887 Lafayette Co, AK to James Barton Dooley (from Family Bible).
II. David A. Goodman was born 12 Oct.1860 Hill Co., TX, and died young.
III. Georgia Goodman was born 7 Jan.1864 Hill Co, TX. She was the first wife of
John Jones Leonard, and after her death, John married Georgia's sister Ida. There were no children born to Georgia.
IV. Ida Clementine Goodman was born 14 May, 1866, Hill Co, TX. She was
married in 1881, Hunts County, TX, to John Jones Leonard (called "Jones").
V. John C. Goodman was born in 1869 TX; mar. Ellen.
VI. Benjamin F. Goodman was born 14 May 1872 Hill Co, TX; mar. Virginia M.
VII. Willie L. Goodman was born 10 Sep.1875 Indian Territory (now Houston
Co, TX); mar. John Gholston
VIII. Robert Boone Goodman was born 26 Mar.1878 Indian Territory; mar.
Myrtle Dubbs.
This page was last updated on 01/12/11

God Bless America
OKGenWeb State Coordinator
Linda Simpson
Asst: Mel Owings
© 1996-Present ~ All Rights Reserved
U.S. GEN WEB NOTICE: In keeping with our policy of providing free Information on the Internet, data may be used by non-commercial entities, as long as this message remains on all copied material. These electronic pages may NOT be reproduced in any format for profit or for presentation by other persons or organizations. Files may be printed or copied for Personal use only. Persons or organizations desiring to use this material for purposes other than stated above must obtain the written consent of the file contributor.