WHAT'S NEW? 1 June 2017
---


Jackson County was formed in 1907 from "Old Greer" County when Oklahoma became the 46th state. Old Greer has a fascinating history: thanks to a surveying error, the territory was in dispute between Texas and Oklahoma for many years until a Supreme Court decision in 1896 when the territory was assigned to Oklahoma Territory.
A brief history of the dispute and resolution can be read at Greer County OKGenWeb page.
Another good history of Jackson County is at the Oklahoma Historical Society's Encyclopedia of Oklahoma History & Culture.

An interactive map of the formation of OK counties
(Scroll down when you arrive to the page)
(Available as slide show or pick by year)

Jackson County is bordered by
Harmon, Greer, Kiowa, Tillman Counties in OK
and Hardeman and Wilbarger in TX.
Click on a county name to visit their site.
New, 29 Feb 2016 - Harmon County has now moved, the new url is "http://okgenweb.net/~okharmon/"
The civil townships in Jackson are:
Baucum
Carmel
Duke
Elmer
Eldorado
Headrick
Martha,
Navajo
Olustee.
(In 1910 there was also
a township called Jay.)
N.B. These are not the same as and are not based on the township-range-section method of land division. They were used for census, voting precincts, and various other civil activities.
Jackson is home to the following
cities and towns:
(Click a number for various articles about the town)

*Note: Altus was called Leger
from 10 July 1901-14 May 1904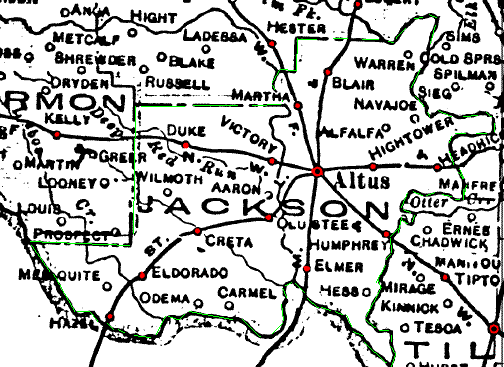 1915 map from OKGenWeb's Maps 'n' More
with an overlay of future Jackson County

Some lesser populated or no longer existing towns are:

Alfalfa
(changed to Friendship)
Alsford
Bonnie
Butte
Carmel
Chilton
(changed to Dunbar)

Creta
(formerly Era)
Crista
Dunbar
(formerly Chilton)
Duncan
Era
(changed to Creta)
Frazer, forerunner of Altus

Humphreys
Jay
Lemon
Lincoln
Lock
Madden
Marty
Mesquite

Morris
Odema
Otis
Ozark
Poe
Prairie Hill
Ricks

Roark (Jct.)
Victory
Warren
Welon
Wellington Jct.
Willowvale
Wilmoth
Yeldell
Another list of towns in Jackson County (with a few more names) can be found at:
Maps 'n' More, a special project at OKGenWeb created by Sharon McAllister.

Old Greer County Post Offices 1886-1907
lists the various post offices, postmasters,
dates of appointment, and notes on discontinuation.
This area included what is now Jackson.
---
Jackson County Courthouse
101 N. Main St.
Altus, OK 73521
Telephone: (580) 482-4420
The Court Clerk has marriage, divorce, and civil court records from 1907.
The County Clerk has land records.
Historic images of the courthouse
---
Featured Photo of Jackson, June-September 2017

The Altus - Jackson County Well
Hand dug in 1889-90 by Mr. Sam Neal who homesteaded the lands that comprise downtown Altus this well was 35 feet deep and was walled with brink.
Rediscovered in 1989, this restoration project has been a part of the "89" centennial celebration for the state of Oklahoma.
Info from Exploring Oklahoma History
Photo by B. D. Miller, 28 March 2013


---
Jackson Libraries, Museums, Historical and Genealogical Societies
Altus Public Library
421 North Hudson, Altus, OK 73521
Phone: (580) 477-2890, Toll Free number: (888) 302-9053
The library has cemetery books, contributed family files, early newspapers, etc.
Tammy Davis, who works at the Altus library, will do lookups in their holdings as time permits.
Contact Tammy for information and cost - be sure to give relevant information (names, dates, etc.).
Western Trail Historical Society
P.O. Box 11
Altus, OK 73522
Museum
of the
Western Prairie
Images from the
Museum of the
Western Prairie
Facebook page for
Museum of the
Western Prairie
(open to public viewing)
Western Trails
Genealogical
Society

Southwest Oklahoma
Genealogical Society
Greer County
Genealogical and
Historical Society
Oklahoma
Historical
Society
---
History of Jackson County
---
Records and Data of Jackson County OK

Please submit your Jackson County data to share!



Old Library in Olustee
Photo by P. A. Miller taken 28 March 2013
---
Family Sites with Jackson County Connections
Submit your site here!
You will need to do a text search for "Jackson" on some of these pages to find the Jackson connection.
Current message boards and query sites for Jackson County:
---
Links to other sites with Jackson County Info
(The search for Jackson County is already done for your convenience - these are the results pages, with lots more links to follow)
---
Jackson County Today
---
Visit again soon!
If you are interested in hosting a county in Oklahoma, please visit the Adopt A County page.
Please submit any link problems to Pam at gen@pamiller.net
---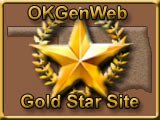 This page updated 1 June 2017


Hosted & Copyrighted 2017 by: OKGenWeb