Home | Cemetery | Queries | Researchers | LCGS
This site is proud to be a part of the USGenWeb and OKGenWeb Project.

August Freiderich Lindauer
Orlando, Logan County, Oklahoma
&copy 1999-2001 Bob Lindauer

These pictures and/or document (s) are shared freely by people who want to communicate with and help others. Every effort is made to give credit and protect all copyrights. Presentation here does not extend any permissions to the public. This material can not be included in any compilation, publication, collection, or other reproduction for profit without permission.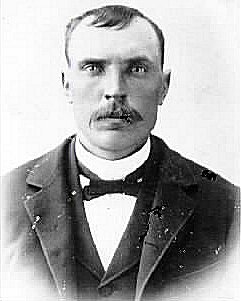 &copy 1999-2002 Bob Lindauer
1893 Photo of August Freiderich Lindauer
born Jan. 6, 1869 in Iowa
died at home Sept. 19, 1898 of Typhoid Fever
August Freiderich Lindauer and his bride Arbulah Oldaker-Lindauer came to this area in 1895, homesteading on 40 acres a few miles west of the Bocox cemetery. In 1898 while Arbulah was pregnant with twins, (one of which was my father), August caught typhoid fever and died.
I was told that he taught sunday school, directed the choir, and was a tenor soloist at the small rural Church (Lutheran we think) within 2-3 miles of his homestead. He played a baritone and probably played in German band if there was one there.
They had moved from Iowa to Oklahoma where they had no relatives so she had no choice but to go back to Iowa to her parents to have the twins. A few month after their birth she married a school teacher named, Robert Thomas, in Iowa and they returned to prove up the homestead. Unfortunately, he was not a farmer and the there was enough difference between Iowa and Oklahoma farming to make it even tougher for him. They just couldn't make it, and about 1907 they traded the farm for a hotel in Americas, Kansas which was even a bigger disaster.
My father came back to Oklahoma and lived most of his adult years in Oklahoma City. I was born in Oklahoma and moved to Texas in 1948 to work for an oil company. I have many fond memories of the Orlando area. I have been to the Bocox cemetery and their homestead with my father.
Return to Family History Page
Return to Logan County Homepage

---
This site may be freely linked, but not duplicated without consent.

All rights reserved. Commercial use of material within this site is prohibited.
The copyright (s) on this page must appear on all copied and/or printed material.

© 2018 by Logan County Coordinator, OKGenWeb Coordinator
Last Updated, 2010