Meet
John Franklin Haas
And
Cecilia Amanda Gibson
Submitted by: Linda Haas Davenport
lhaasdav@cox.net

John Franklin Haas was born in Itawamba Co MS on 23 Mar 1849 to Mary (unknown) and John Haas. John married Cecilia Amanda Gibson on Christmas Eve of 1873 daughter of John Gibson and Sohpia Weatherington. Cecilia was born 24 Nov 1856 in Itawamba Co MS. The Haas family moved to Ft. Gibson Indian Territory between 1887-1892. John F. Haas was a mayor of Ft. Gibson and also a Justice of the Peace. In his later years he owned a leather good shop in Ft Gibson where he made saddles, boots, shoes and all types of leather goods.
This photo was taken at Claremore, Indian Territory approx 1898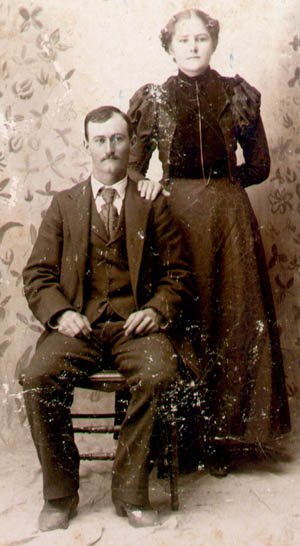 "This Page Was Last Updated Tuesday, 14-Jul-2009 00:38:32 EDT"
© Sue Tolbert