Postcards

Submitted by: Melissa Welsby

<melissa@welsby.com>

High School Muskogee OK

This is another real photo postcard. Postmarked Nov 20 1910, from Archie, to Miss Sylvia Alpine, Temple Theater, Rochester, N.Y. On the front it says, "High School, Muskogee, Okla" and "No. 169, Muskogee Indian Trading Co."
Muskogee Central High School was on Dayton Street 2 blocks north of the old Library (now Ark of Faith). This view is from the South West corner. The school to the East is Washington Elementary.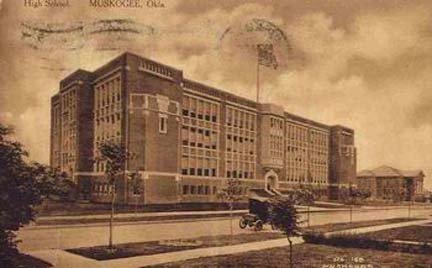 "This Page Was Last Updated Tuesday, 14-Jul-2009 00:39:40 EDT"
© Sue Tolbert