Welcome!
This Ottawa County website is 

 for adoption.
If you would like to be the coordinator for this site, Please contact:
Linda Simpson, State Coordinator or
Mel Owings, Assistant Coordinator
Ottawa County, created in 1907 from the Cherokee Nation is in the extreme northeastern county of Oklahoma, bordering Kansas and Missouri.  The county was named for the Ottawa Indians, but comes from the Algonquian term "adawe", meaning to "buy and sell" or "trade and traffic". 
The county has been the home of members of a greater number of Indian tribes than any other county in the United States. 
Marriage divorce, probate and civil court records are maintined by the Court Clerks office.  Land records dating back from 1890, are kept by the County Clerk.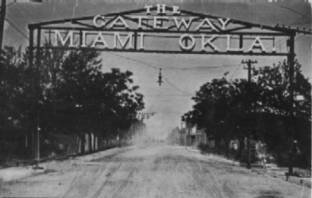 Miami, OK 1920's
Cities
Commerce  | Miami (county seat)
Towns
| Afton | Fairland | North Miami | Peoria | Quapaw | Wyandotte |
Communities
| Dotyville | Narcissa | Ottawa |
Ghost towns
Adjoining Counties
Cherokee County, KS north | Delaware Co., OK south
Newton County, MO east| McDonald Co., MO east | Craig County, OK west