"Links to web sites that are not part of the US Gen Web Project are provided for your convenience and do not imply any endorsement of the web sites or their contents by The US Gen Web Project."
CHOCTAW
WAR
MEMORIAL
located on the Choctaw Nation Capitol House grounds.
Tuskahoma, Pushmataha County, Oklahoma
photos by Brenda S. Franklin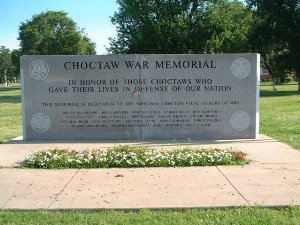 IN HONOR OF THOSE CHOCTAWS WHO GAVE THEIR LIVES
IN DEFENSE OF OUR NATION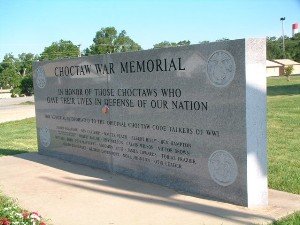 THIS MEMORIAL IS DEDICATED TO THE
ORIGINAL CHOCTAW CODE TALKERS OF WWI
ALBERT BILLY
MITCHELL BOBB
VICTOR BROWN
BEN CARTERBY
GEORGE DAVENPORT
JOSEPH DAVENPORT
JAMES EDWARDS
TOBIAS FRAZIER
BEN HAMPTON
NOEL JOHNSON
OTIS LEADER
SOLOMON LOUIS
PETE MAYTUBBY
JEFF NELSON
JOSEPH OKLAHOMBI
" the most highly decorated WW I veteran in Oklahoma"
ROBERT TAYLOR
WALTER VEACH
CALVIN WILSON


God Bless America
County Coordinator - April Makerney
County Assistant - Billie Heath
Hosted by OKGenWeb
OKGenWeb State Coordinator
Linda Simpson
Asst: Mel Owings
Copyright 1996-2018 ~ All Rights Reserved
U.S. GEN WEB NOTICE: In keeping with our policy of providing free Information on the Internet, data may be used by non-commercial entities, as long as this message remains on all copied material. These electronic pages may NOT be reproduced in any format for profit or for presentation by other persons or organizations. Files may be printed or copied for Personal use only. Persons or organizations desiring to use this material for purposes other than stated above must obtain the written consent of the file contributor.