This is one of the old family photographs from the Jackson family
that lived in the Stanley area.
Submitted Brenda S. Franklin
This photograph was taken in 1917.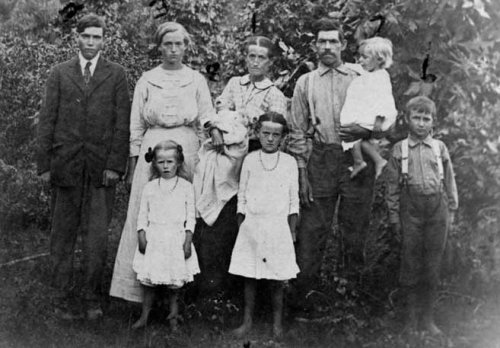 Back left to right: Thomas Terrill Jackson, Alma Jackson,
Mary Abigail "Abbie" Wright Jackson (holding baby) Nora Jackson,
Berryman "Dottie" Jackson (holding) John Wesley Jackson.
Front left to right: Maggie Jackson, Alice Jackson, Ardith Taylor.
Abbie and B.D (Berryman Dottie) Jackson are buried in the Stanley Cemetery.
John Wesley Jackson is also buried in the Stanley Cemetery.
Alice Jackson married Calvin Howze and is buried in the Pine Spur Cemetery.
Maggie Jackson is the grandmother of Brenda Franklin.