"Links to web sites that are not part of the USGenWeb Project are provided for your convenience and do not imply any endorsement of the web sites or their contents by The US Gen Web Project."
| | | |
| --- | --- | --- |
| | owen School | |
Owen School 1937
Submitted by: Jennifer Sparks

The following information and photos were furnished by Rod Brassfield
Don't know who the kids are, but my daughter bought a box of pictures at a flea market and it has pictures of the school and lots of pictures of kids. I think the dates are 1918 and to include 1921. There is also a report card for the 3rd grade I think that is for Okla Whitmire or Whitmore or something as such, can't recall. The School Supt. at the time was, again if I remember correctly, a Minnie Benge. Many students in one picture, all away around the school. Good old in good condition pictures.
The school is located just across the street from the Cherokee Heritage Center in Park Hill I am told. There is a restoration project going and someone was pretty sure that it was built around 1913.
A picture of some of the Students year unknown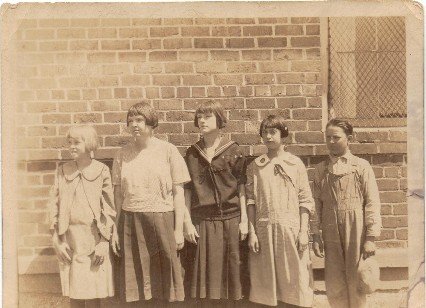 Part of a banner, it appears. Approx. 3' x 6'. What do you think, might there be a picture or a postcard out there somewhere? Thanks! Rod



Below are more pictures of Owen School Students
Furnished by Rod Brassfield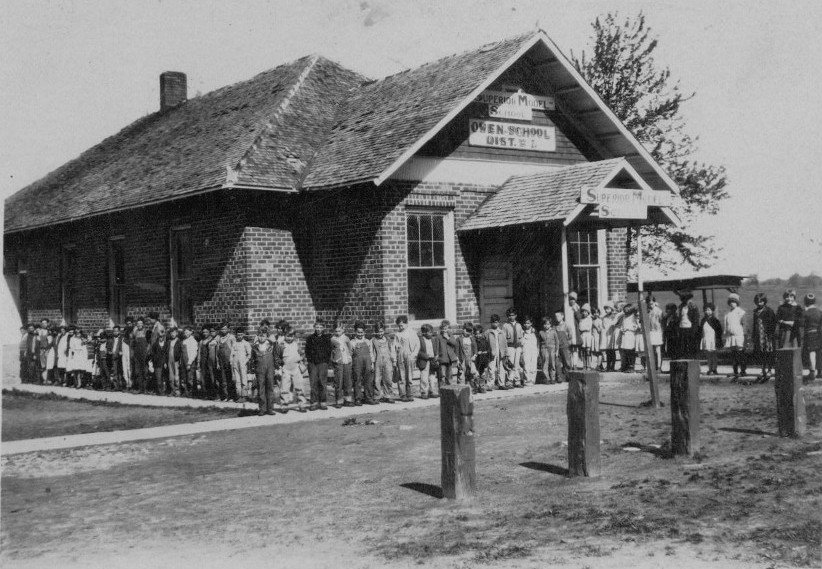 This picture of the school with the students lined up around the school has on the back taken by:
The College Studio, Tahlequah, Ok. It also has the name of Junior Whittmore, 1931.

Jennifer Sparks identifies the following as: Class of 1926.

Back Row, left to right: Okla Whitmore, Gorden Whitmore, Houston Mathews

Fred Goodwin Vivian Edwards, Stella Goodwin, Alza Hensley


Front Row, left to right:

Anna Summers, Captolia Whitmore, Callie Hathcoat, Elsie Barber, Lethiomal Goodwin, Pearl Goodwin, Ueo Edwards and Edith Whitmore

The ball in the chair, it says 1926. My grandmother Alice Boswell.
is 2nd from left. She has on the brown sweater with the lanyard around her neck. By Jennifer Sparks
My grandmother Alice Boswell is the first child sitting down. This would be about 1922. By Jennifer Sparks

The picture on the bottom left is about 1924 because my grandmother Alice Boswell is on the front row, third from right. She still has that lanyard hanging around her neck but she is a couple of years younger than the 1926 picture. By Jennifer Sparks
I believe this is 1926 also because my grandmother Alice Boswell is in the second row, third from left and she has on the exact same clothes that she has on in the basketball picture. By Jennifer Sparks
I also have a report card dated 1918 and monthly report for 1922 and 1923.
This page was last updated on 05/23/11

Join the "You Might Be From Tahlequah If..." Facebook group

for ongoing discussions on the history of Tahlequah & Cherokee County

This page is maintained for the OKGenWeb


God Bless America

A Sincere Thanks To All Contributors !!!!!!

USGenWeb NOTICE: In keeping with our policy of providing free Information on the Internet, data may be used by non-commercial entities, as long as this message remains on all copied material. These electronic pages may NOT be reproduced in any format for profit or for presentation by other persons or organizations. Files may be printed or copied for Personal use only. Persons or organizations desiring to use this material for purposes other than stated above must obtain the written consent of the file contributor.