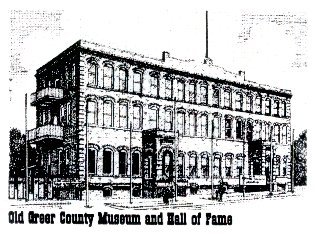 Publication
Greer Frontier
Facebook
---
Greer County Cemeteries
Cemeteries Greer Co OKGenWeb
---
Jackson County Cemeteries
Aaron, Antioch, Blair, Cottonwood - Duke - Guffin - Martha -
Rock (Duke, OK) - Olustee
---
Harmon County Cemeteries
Cave Creek - Fairmount - Gould
---
Oklahoma Historical Society
Oklahoma City, Oklahoma
Southwest Oklahoma Genealogical Society
Lawton, Oklahoma
Greer County, OKGenWeb
Greer County History
Search this site &
Greer County OkGenWeb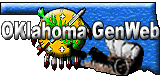 HISTORY & GOALS: Organized September 21, 1989 to preserve all types of early records; encourage genealogical and historical research.
GREER FRONTIER issues 1989-2017 contain pages of abstracted or indexed records, Old Greer County families and the unique history of Old Greer County, organized by Texas in July 1886, by Supreme Court decision of March 16, 1896 assigned to Oklahoma Territory. After statehood Old Greer was divided to counties of Greer, Jackson, Harmon and south part of Beckham.
COLLECTION: Resources in genealogy section of the Library include county histories, family histories, genealogical and historical newsletter and magazine collections. Microfilm includes Greer County newspapers, census records, marriage and divorce records, probates, civil and criminal dockets, and school enumerations are available. Indian microfilm is also available.
Greer County List of Obituaries 1898-2006 is complete, containing 20,000 names transcribed by volunteers.
In 1993 Greer County volunteers requested records in courthouse archives containing family information (marriage, probate, divorce, etc.) to be microfilmed by Utah Genealogical Society -and- Greer County Genealogical and Historical Society. A few of records were as early as 1886 but the majority were 1901-1930. Copies of the 114 microfilm rolls were placed at Margaret Carder Library, Mangum, Oklahoma in GCG&HS holdings. The library provides a microfilm reader for visiting researchers. Please remember when you write with a request, library staff has limited time for lookups.

The microfilm is in LDS FHC library catalog, Greer County, Oklahoma. Besides the marriage index, probate packets, selected civil (divorce etc) packets, there are Administator records (probate), Bill of Sale records 1886-1899, Civil Appearance Dockets 1896-1932, Commissioner Minute books, Court Journals, Deed Indexes, Election board Precinct Registers, Guardianship records 1902-1929, Naturalization records, School District records. Some of these are unindexed, some are partially indexed, some are in date order, some are not.
Some of the oldest records of Greer County, Texas 1886-1896 are in Oklahoma Historical Society, placed there in the 1940s. They are also on microfilm. Contact OHS.
---

GREER COUNTY DEATHS 1912-1918

GREER COUNTY INQUEST 1890-1903

GREER COUNTY INDEXES 1901-1930
MARRIAGE LICENSES - *SELECTED* CIVIL - PROBATE

J. T. Lockerd's blacksmith book 1896-1897
---

---