Fairmount Cemetery
Harmon County, Oklahoma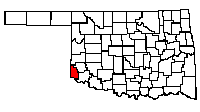 part of Greer County until 1909
Fairmont or Fairmount?
In the southeast corner of the cemetery, a stone marker reads 'Fairmount Cowboy 1890'.
Story was that a drifter cowboy died. The locals buried him.
Nobody knew who he was. A cowboy said, "Well, he had a fair mount (horse)".
Thus, the name Fairmount Cowboy. That is how the cemetery got its name.
Many graves are unmarked. This new listing was compared to 1999 inventory.
Any location marked 'unknown' is from the old listing. As much as it's wished otherwise, there will be errors.
Please contact Peggy Bielich in order for them to be corrected.
A map is available to indicate method of determining section and row.
Inventory completed 14 May 2002 by Janell Woodward Adams,
Peggy Crabb Bielich, Jeanette Coaly and Carolyn Shumaker.