[an error occurred while processing this directive]
In a letter dated December 12, 2005 to Shelley Lynch From C.Kaye Drew.."Tuskegee Church is 8 or 9 miles west of Eufaula. You turn south just past the blue water tower on Highway 9.
Tuskegee Cemetery
Row starts on the south side and runs east to west.
Submitted by Ms. C.K Drew
R1

x

x

x

x

x

x

Robert Sullivan

x

x

R2

x

x

x

x

x

x

Gladys Mullins

x

x

R3

Dan Barnett

x

Joe Dorsey, Jr

x

x

Leona
Colbert

James M. Wacocha

x

x

R4

Burnie M. Harridge

Burnie McIntosh

Lillie Mae Dorsey

x

x

Mrs. May McCombs

Joe McCmbs

M.Mae Sullivan

x

R5

x

Leah McIntosh

Ellen Jackson

x

x

Soloman McCombs

Leah Barnett

Jarene Sullivan

x

R6

Jamie Harne

x

George Jackson

Infant McGilbia

x

Ella Smith

Stoddard Sullivin

Leah Colbert

Jasper Hardrige

R7

Sam Barnett

x

Sofeman Hartridge

Lewis McGilbira

x

James McCombs

Martha Jane

Joe Colbert

Morris Barnett, Sr.

R8

Nettie Barnett

x

Lewis Colbert

Charley Barnett

x

Millie McCombs

Bessie Sullivan

x

Lillie
Bear

R9

x

x

Walter Colbert

Jamie Barnett

Roley Marshall

August
Sullivin

Jacob Sullivin

X

Minnie King

R10

x

x

Thomas McWilliam

x

Martha McCombs

Polly
Marshall

Tucker Marshall

Joe Smith

Sandy Marshall

R11

x

x

Mary Macnack

x

David McCombs

Thomas J. McCombs

Ruben Bright

Howard Marshall

Earetine Edwards

R12
Baby Tiger
x
x
x
William McCombs
Sallie Jacob McCombs
Bettie McCombs
Bessie McCombs
Silas Marshall
R13
Lillie Ann Walker
x
x
x
Lizzie Colbert
Baby Boy Colbert
Tree
x
x
R14
x
x
x
x
Jimmie Colbert
Mary
Colbert
George Stover
Tree
Ella
King
R15
x
x
x
x
Tookah Colbert
Jackson Barnett
Edna Barnett
Robert King
x
R16
x
x
x
x
Frank Washington
Mattie
Barnett
Mindy Barnett
Roman Barnett
x
R17
x
x
x
x
Alice Colbert
Felix
Barnett
Roley Billie, Jr.
Stella
Billie
x
R18
x
x
x
x
x

Bobby
Phillips

Jeanetta Mouse
Nancy McClous
x
R19
x
x
x
x
x
x
Barney Billie
x
x
R20
x
x
x
x
x
x
x
Roman Billie
x
Tuskegee Indian Baptist Church
Bettie McCombs Drew Cemetery
Name
Birth - Death
Relationship
1st Row
James Oral Hawkins
1 Jan 1916 - 25 July 1981
h/o Grace D. Hawkins
Grace Helen (Drew) Hawkins
28 Jan 1915 - 28 Mar 1986
d/o Charles & Bettie
Empty
Robert Colbert
8 Sept 1884 - 5 May 1965
s/o James Colbert & Lizzie McCombs
Lorraine Ella (Drew) Deere
12 Jan 1920 - 26 March 1960
d/o Charles & Bettie
Charles Henry Drew
9 Dec 1882 - 31 July 1948

s/o Daniel D. Drew & Margaret Seaman

h/o Bettie

Bettie Mae (McCombs) Drew
2 May 1882 - 26 Jan 1942

d/o William McCombs & Sallie Jacobs

w/o Charles

Daniel David Drew
4 Dec 1917 - 6 Aug 2005
d/o Charles & Bettie
2nd Row
James Oral Hawkins, Jr.
6 Mar 1942 - 29 Oct 1998
s/o Oral & Grace Hawkins
Empty
Tom R. Cummings
29 June 1894 - 20 Feb 1974
h/o Mildred
Mildred Hunter Cummings
16 Jan 1917 - 6 May 1984
d/o George Washington McCombs & Bessie Carr
Mary (Colbert) Kelly
(unmarked)
d/o James Colbert & Lizzie McCombs
Walter Kelly
8 Jan 1916- 8 Oct 1962
s/o Wadley Kelly & Mary Colbert
3rd Row
Peggy Louise Hill
27 Sept 1946 - 3 Dec 1949
d/o Jesse Hill and Madella Colbert
Dated: 6-18-04 Kaye Drew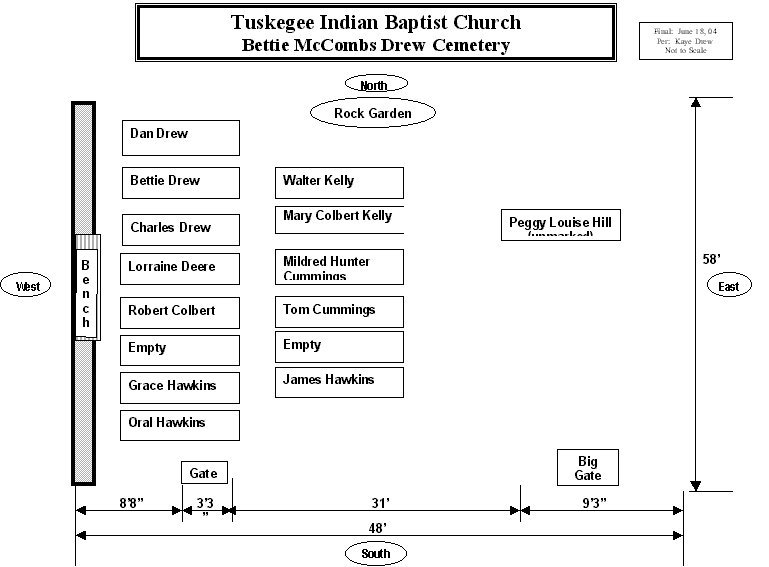 xxxxxxxxxxxxxxxxxxxxxxxxxxxxxxxxxxxx
Daniel David Drew
JCBOURNS@aol.com <JCBOURNS@aol.com>
xxxxxxxxxxxxxxxxxxxxxxxxx
The followinmg individuals are reported as burials in Tuskgee Cemetery
Bobbie Bamett 1/4/50
Edna Bamett 8/10/44
Leah Bamett 10/24/58
Mindy Bamett 1/29/50
Morris Bamett 10/31/75
Roman Bamett 3/12/54
Samuel Bamett 6/19/68
Serran Bamell 4/3/03
Lillie Bear 3/30/83
Railey Billie 5/11/53
Stelia Billie 10/21/56
Reuben Bright 12/9/48
Joe Colbert 9/7/53
Lorene Deere 3/22/60
Peggy Hill 12/1/49
Martha Howard 3/15/76
Robert King 5/25/77
Bessie McComb 5/9/67
George McCombs 7/25/66
Leah McIntosh 3/10/53
Jeanette Mouse 4/21/59
Joe Pahaseyahola 1/21/48
Bessie Sullivan 7/28/54
Jacob Sullivan 9/17/52
Stoddard Sullivan 3/4/79
Inf. of Charl Tiger 12/31/56

=======
xxxxxxxxxxxxxxxxxxxxxxxxxxxxxxx
McIntosh County OK, 8 miles west of Eufaula on Hwy. 9, 1 mile south.
An Indian burial ground from Indian Pioneer History by Foreman Vol 57 pg 148

Rev. Taylor Bear
d. Jul 20 1937
Age 87 years

George Jackson
25 Aug 1875
2 May 1920

John Jackson
d. 5 Mar 1916

"Mary Manack"
d. 30 Sep 1882
Age 83 years

Paulein Marshall
15 Oct 1884
16 Oct 1918

"Samon" Bear
d. 1915
Age 20 years
son of Taylor Bear