Books with Noble County Roots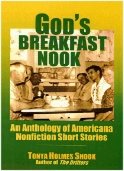 Tonya Holmes Shook writes: "I have another book released last June with stories relating to Perry, the land grant kids and about early day settlers of Perry, God's Breakfast Nook: An Anthology of American Nonfiction Short Stories. I spent my summer vacations with grandparents in Perry. See Press Release below:"
New Book Reminds Readers of How Things "Used to Be"
During the 1940s, a young Tonya Holmes Shook and her sister took the train from New Mexico to Oklahoma to spend "the summers on wonderful farms" owned by their grandparents.
"I remember distinctly about a danger lurking in hidden places on grandmother and granddad's farm. This danger was two-legged! He also crowed. That was the meanest rooster I ever saw!"
"The 1940s are full of memories of squirrel hunting with granddad—a time when a Black Diamond watermelon was halved on the kitchen table with plenty of spoons sticking out of it and begging you to take a bite whenever the spirit moved you."
"After we finished eating the melon, the hogs ate what we left. It was a time when breakfast consisted of sugar-cured ham or slab bacon and eggs, fresh honey and hot biscuits washed down with coffee.
We loved to imitate our Grandpa by "saucering" coffee like he did. Although it wasn't an affluent place by any means, the farm gave us rich memories."
This is just one of more than two-dozen stories from
God's Breakfast Nook: An Anthology of Americana Nonfiction Short Stories—Shook's new book that explores the spiritual side of family life. Shook is also author The Drifters, a fiction book about the Melungeon shantyboat people. Both books are published by Marquette Books of Spokane, Wash.
The short stories in
God's Breakfast Nook, Shook says, "can be thought of as building bricks of oral history. I have tried to take one little brick at a time to build a bit of Americana from my corner of the pasture."
Other reviewers agree.
"God's Breakfast Nook is wonderfully written and causes (one) to reflect upon a time when families were much more cohesive than they are today … when life was simpler and people loved each other more," says Randy Southerland, minister of New Hope Baptist Church West in Duncan, Okla.
"I am so impressed with the 'meat' your book offers … it's so wonderful to read something with real substance when so much of what is foisted on the public … is just Pablum," says Linda Harris, a registered nurse from Whitesboro, Texas.
"Your book has intertwined God's message for people who have the ability to look back over their own lives and see the results," says Andy Lowe, a mine maintenance director, inspector and special investigator from Phoenix, Arizona.
Tonya Holmes Shook was born in Oklahoma and lived in New Mexico and Texas before returning to Oklahoma in l985. She is the author of
Displaced Cherokee: Come Home, Come Home, a book documentary that took First Place in the l986 Open Class Category at the Oklahoma State Fair. The book was endorsed by the Oklahoma Department of Libraries.
Shook's other book,
The Drifters: A Christian Historical Novel About The Melungeon Shantyboat People, is currently being reviewed by a screenwriter in Hollywood. In addition to writing books, Tonya is an accomplished artist and poet. Many of her works have Christian themes.
Tonya is available for media interviews and book signings. She can be reached at
shookum@pldi.net or 580-439-6912. Article from Marquette Books press release. books@marquettebooks.org