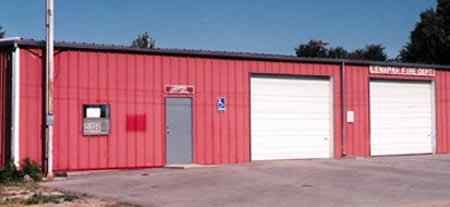 Lenapah City Hall
This town was named by an indian woman, Mrs. Elizabeth Kinney in 1889. She was the oldest inhabitant at the time. The spelling was originally Lenapha, but was changed.
Henry Starr, part Cherokee Indian, turned to robbing trains, banks and stores. He robbed the Shufelts Store in Lenapah. He was sentenced to hang by Judge Parker for killing Marshall Wilson on Mormon Creek. He was pardoned by President Roosevelt in 1903. Starr was killed in Harrison, Arkansas Bank robbery in 1921. He was buried in Dewey Oklahoma on Feburary 23, 1921.
There are no hours posted at the Lenapah City Hall. The town clerk is usually there a couple of days at the first of the month. Here you see the town hall and the fire department.