"March 21, 2007"
Nita Wesson has provided a list of Schools that were in Nowata County.
Most of this list was taken from one of the Nowata Historical Society's newsletters. They had gotten them off the Heritage Map of Nowata County, compiled by Herb Couch.
"June 10, 2007"
Additional list of school has been provided, again the information is based on the Heritage Map of Nowata Co. First school of the new list was established in 1890 (they will have an * in front of name. First school were maintained by boy Indians and whites. They were called "Subscription" School, taught by L. M. Keith from Coffeyville Kansas. About 15 pupils were enrolled. (This map is for sale in the museum)
If you have resources (pictures, list of pupils, etc.) for any of these schools and are willing to share them, or know of other schools not listed, please send the information to the county coordinator.

Adair--
*Allen--
*Alliance Hall--
Alluwe--
Armstrong--
*Bellevue--
Blue Ribbon--
*Boyd--
*Burn--
*Campbell--
*Capps--
*Cedar--
*Chaney--
*Chapel Springs--
Childers--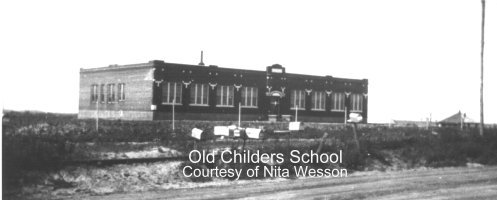 Old Childers School

Childers School Photo's 1927, 1933, 1935, 1937, 1938, 1939, 1943, 1944, 1945, 1946, 1947, 1948 and 1949

*Claggett--

Coody's Bluff 1st Log Cabin School -- 1870 --

Crow Hollow (Holler)--

Between Wann and Lenapah per Joe Bruce, who says his older sister attended school there while they lived on the Gotlieb Ranch.

Delaware--

Diamond Point--

historic site

District #9 (north County)--

East Side--

*Elliott--

Elm Bend & Church--

*Fair Hope--

*Fairview--

Fowler--

Franklin--

Glen Oak--

Gobeck--

*Gott--

Gooseneck School & Church--

*Hayden--

Hickory Creek--

Hickory Creek Colored--

The school house, meeting place, and it also served as a church at times.
It is estimated to have been built in the late 1870's. Most of the slaves stayed in Kansas until the Freedman Allotment Lands were issued. Then the people migrated back to northeastern Oklahoma. These ruins was one of the first attempts to build the future. Located beside this old school is an old cistern. It has been sealed to prevent an unwanted accident.
The Little Flock Baptist Church is a historical marker by itself. The first church built was a log cabin church on the south side of Hickory Creek.
Five little ladies took in washing to have it built. A preacher rode a mule south from Coffeyville on Thursday to stay with a family until Saturday. He would have Sunday school every other Saturday in the little log cabin. Then he would ride back to Coffeyville and conduct services at his own church each Sunday.
When Hickory Creek flooded the preacher couldn't come. The little ladies put their efforts together and had another log cabin church built on the north side of Hickory Creek and that stopped the flooding problem.
The preacher called these 5 ladies his little flock. Later he called theb church the Little Flock Baptist Church honoring the little group of followers. Then the new church was built in the 40's because one of the church's had burned down. Totally, the church is about 115 years old. They still hold services there every other Saturday.
It is well to note that the 99-year-old lease will expire in 2035. The county leased the land for the church for 99 years after the land was lost when no one could pay the taxes back in 1930's.
Hickory Creek Cemetery is located across the Little Flock Road that runs in front of the church. July 17, 2007 Jeannie Inman

High Prairie--

Hoffman--

*Hope--

Ignorant Ridge--

Island (Riverside)--

*Jolly--

Keene--

Lee Square--

Lee Square - 2nd--

Lenapah--

Lewis--

Lincoln Colored--

Log Cabin--

Lone Star--

Madden Colored--

Martin - School District 25 near the Martin Cemetery Class of 1913

Martin (north county)--

Martin Log Cabin (by Martin Cemetery_--

Martin Colored (north county)--

Miller--

*Moore--

*Mt. Pleasant--

Nation--

Nowata--

Old picture of Nowata High School--

Nowata High School
Pictures courtesy of Nita Wesson

Nowata Class of 1929--
April 17, 2007 - - -Hello Sharlee,
I've attached a photo of the Nowata High School Class of 1929.
My mother Golda Marie Manley is in the photo-----2nd row from top, 4th from left. Henry Eccles is first on left, bottom row. These are the only ones I know in this photo. This picture was taken on the Nowata County Courthouse steps.
Maybe someone can indentify others in the photo. Hope you can use this for the OKGenWeb Nowata County webpage. Thanks.
Peggy Hudson Edmondson (Nowata High School Class of 1966)
Thank you so much Peggy, perhaps someone can identify the other class mates in the 1929 photo. Sharlee

Oakdale--

Oklahoma Union--

*Overturf--

Palestine, District 39--

*Powers--

Prairie View--

Ray School known as Ignorant Ridge--

Rock--

Ruby--

Rutherford--

Salt Creek, District 49--

Sanders Colored--

*Secondine--

*Shufeldt--

*Skinner--

Smith (Bugscuffle)--

Snow Creek--

South Coffeyville--

Stevens--

*Story--

Strong--

Subscription (north county)--

Subscription (near Alluwe)--

Subscription (Nowata)--

Terrill (Pleasant View)--

Territorial Subscription (north county)--

Thompson--

*Turkey--

Union Log Cabin--

*York--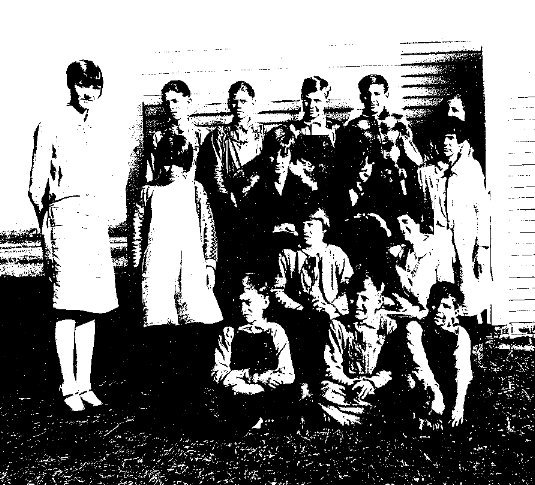 YORK SCHOOL 1928
Need help with ID of students.
Teacher: Katie (Nunnallee) Milligan
Students: Back row, 2nd boy from left, Mid Marlow (C.M. Marlow). Front row, boy on left, Clifford Marlow.


The old school building has been torn down. The old and new gym and the cafeteria are still standing, although the old gym is in poor condition. The new gym is now the Wann Community Center.

Watova--

Wauchillow--

Witwer--

Wolf--

Woods--

Wright--