"Links to web sites that are not part of the USGenWeb Project are provided for your convenience and do not imply any endorsement of the web sites or their contents by The USGenWeb Project."
1924 8th Grade
Moyers School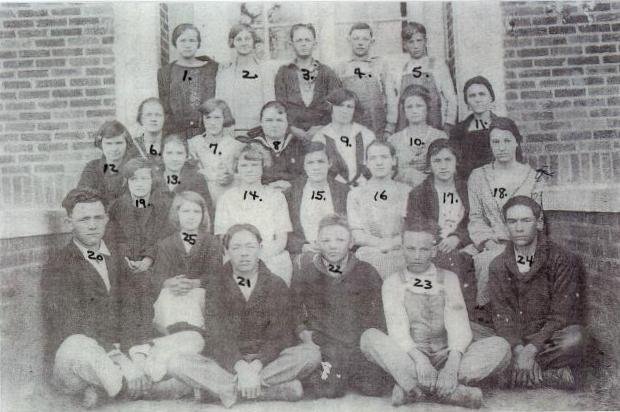 submitted by carolynkay@starband.net
Moyers, Oklahoma
School Picture
8th Grade, 1924
1. Willie Shelton
2. Floy Moyer
3. Bill Acord
4. Will Tom Harrison
5. William Parsons
6. Dora Howard (Kendrick)
7. Pauline Masterson (Rosenthal)
8. Anna Robinson (Cobb)
9. Vera Latham (Anderson)
10. Unknown
11. Mrs. Fredrick (Teacher)
12. Lillian Marlin
13. Lucille Shelton
14. Clare ?
15. Mildred Fredrick (Cobb)
16. Artie Adair
17. Gaynell Sweeten (Pool)
18. Florence Eola Walling (Lyon)
19. Elizabeth Mershon
20. Irvin Williams
21. Mike Emery
22. Luther Sweeten
23. Jim Johnson
24. Morris Parker
25. Irene Malin




God Bless America

County Coordinator -

Hosted by OKGenWeb

OKGenWeb State Coordinator
Linda Simpson
Asst: Mel Owings
Copyright 1996-2023 ~ All Rights Reserved

USGenWeb NOTICE: In keeping with our policy of providing free Information on the Internet, data may be used by non-commercial entities, as long as this message remains on all copied material. These electronic pages may NOT be reproduced in any format for profit or for presentation by other persons or organizations. Files may be printed or copied for Personal use only. Persons or organizations desiring to use this material for purposes other than stated above must obtain the written consent of the file contributor.