"Links to web sites that are not part of the USGenWeb Project are provided for your convenience and do not imply any endorsement of the web sites or their contents by The USGenWeb Project."

Rattan School
8th Grade Class of 1946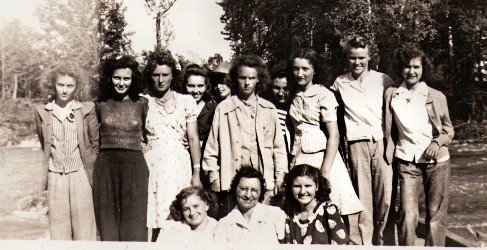 Contributed by Belinda Parsons Yeager
Above is a photo from my mother's scrapbook. Her name was Bonnie Violet Langley and she grew up in Rattan. Written on the back of the photo:

8th Grade Girls 45-46
Dorothy Duncan
Ira Adcock
Violet Langley
Patty Bicknell
Betty Pritchett
Emma Rhodes
Wanda Miller
Emily Lane
Darla Jean Monks (or Honks, Donks?)
Nelda Dunlap
Imogene Melton
The names don't seem to be in order as my mother Violet is the second from the right, back row. Maybe someone can put the names with the faces.


God Bless America
County Coordinator -
Hosted by OKGenWeb

OKGenWeb State Coordinator
Linda Simpson
Asst: Mel Owings
Copyright 1996-2023 ~ All Rights Reserved

USGenWeb NOTICE: In keeping with our policy of providing free Information on the Internet, data may be used by non-commercial entities, as long as this message remains on all copied material. These electronic pages may NOT be reproduced in any format for profit or for presentation by other persons or organizations. Files may be printed or copied for Personal use only. Persons or organizations desiring to use this material for purposes other than stated above must obtain the written consent of the file contributor.

Back to Schools