Welcome to the Mayes County OKGenWeb
Hello!
My name is Anthony Marshall, the County Coordinator for Mayes County. My great grandparents came to Mayes County by covered wagon back in 1904 and so I have a great fondness for the area. I have several relatives living in Mayes County but I do not currently live there. I am able to do some free LIMITED research and lookups in census, marriage, military, birth and deaths, newspapers and much more. Please email me for more information. If you would like to contribute your information to this page, please email me with Mayes County in the Subject line.
About Mayes County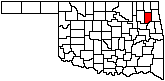 Mayes County, Oklahoma, located in the northeastern part of the state, was named in honor of Ex-chief Samuel Houston Mayes. All of the land comprising Mayes County was formerly a part of the Cherokee Nation, Indian Territory, with the exception of one township on the south, being a part of the Creek Nation. Mayes County enjoys a citizenship second to none in the state, for the reason that the Cherokee Nation played such an important part in the history making of Oklahoma, and that part of the Cherokee Nation that is now Mayes County furnished a liberal share of the history making of the Cherokee Nation.
Mayes County Site Search
Mayes County Site Directory
Places of Interest
Mayes County District Court
1 Court Place
Pryor, OK 74316-1018
(918) 825-2185
Coo-Y-Yah Museum
45 S Mill Street
Pryor, OK 74316-1018
(918) 825-2575
Pryor Public Library
505 E Graham Ave
Pryor, OK 74316-1018
(918) 825-0777
Neighboring Counties
Please visit our neighboring OkGenWeb County sites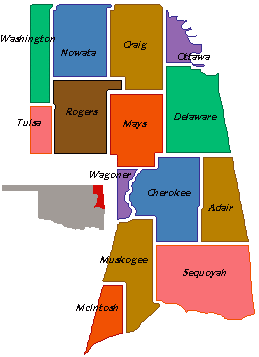 General Information
Links to web sites that are not part of the USGenWeb Project are provided for your convenience and do not imply any endorsement of the web sites or their contents by The USGenWeb Project.
NOTICE: In keeping with our policy of providing free Information on the Internet, data may be used by non-commercial entities, as long as this message remains on all copied material. These electronic pages may NOT be reproduced in any format for profit or for presentation by other persons or organizations. Files may be printed or copied for Personal use only. Persons or organizations desiring to use this material for purposes other than stated above must obtain the written consent of the file contributor.
OKGenWeb State Coordinators