County Seat - Arnett


Home | Archives | Cemeteries | Obits | Resources | Look-Ups | Queries | Additional Links

"Links to web sites that are not part of the USGenWeb Project are provided for your convenience and do not imply any endorsement of the web sites or their contents by The USGenWeb Project."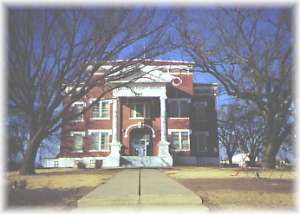 Built in 1912, the historic Ellis County Courthouse stands in the center of the Courthouse Square in Arnett.
Just south of the Courthouse stands the old jail and an historic log cabin that is still in use today by the local Boy Scouts.
The Courthouse Square is the center of town activities and festivals throughout the year.
Welcome to Ellis County.!

This County is available for adoption, if interested please e-mail the State coordinator and/or the Assistant State Coordinator for details.
| | | |
| --- | --- | --- |
| | | |


<<+++>>
If you would like to adopt
a county in Oklahoma,
visit okgenweb.net
<<+++>>
Burials

Early Settlers

The Cherokee Outlet/Strip

Native

History

Bios

Military

Photos

Bible

Census

Land

Marriages

Schools

The county was formed by uniting parts of two territorial counties, Day and Woodward and named for Albert H. Ellis, a Vice President of the Oklahoma Constitutional Convention.
In 1892, the south part of Ellis County was a part of County E, which was named Day County at the first election after the Cheyenne and Arapaho Opening in 1892. The County Seat was located at Ioland and then moved to Grand on Nov 13, 1893.
The Oklahoma Constitutional Convention decreed that Day County should cease to exist on Nov 16, 1907, and a new county, to be named Ellis should be formed.
The part of Day County south of the South Canadian River became a part of Roger Mills County - that part north of the river became a part of the new Ellis County. In addition, Townships 20 - 24 N Ranges 23 - 26 W, previously included in Woodward County, would now be part of Ellis County.
Grand was named the temporary county seat, but was changed to Arnett by vote of the people and moved on Oct 1, 1908.

"Sand Pumpin's"


The Oilmen, in their Sunday "Go to Meetin' Clothes"
Following the Boom Towns

Vinton, Gene, Virgil, Rex Lawson

Family Group Sheets/Family History

Ellis County Historical Society

OK Bits - Ellis Co.

Miscellaneous

Ellis County 1912

Ellis County Schools
Rural schools in "N" or old Woodward County, Oklahoma Territory

Historical Certificates Offered
The Ellis County Historical Society has announcing they will be offering two separate Historical Certificates to the families of Ellis County, Oklahoma.
A Pioneer Certificate will honor the direct descendants of Pioneers in the territory that became Ellis County ---dates before statehood 1907.
The Early Settler Certificate will honor the direct descendants of Settlers in Ellis County before the 1920 census.


Directory of census links to help you locate free census records online
Census Finder
OK Census Finder
USGenWeb Census Project
---
---
Be sure to visit these Ellis County Researcher's Web Sites


This page was last updated on 06/17/15
God Bless America
OKGenWeb State Coordinator
Linda Simpson
Asst: Mel Owings
© 1996-Present ~ All Rights Reserved
USGenWeb NOTICE: In keeping with our policy of providing free Information on the Internet, data may be used by non-commercial entities, as long as this message remains on all copied material. These electronic pages may NOT be reproduced in any format for profit or for presentation by other persons or organizations. Files may be printed or copied for Personal use only. Persons or organizations desiring to use this material for purposes other than stated above must obtain the written consent of the file contributor.