John William & Carrie Belle Pitner WYCHE
Submitted by: Joan Wyche Eighmy -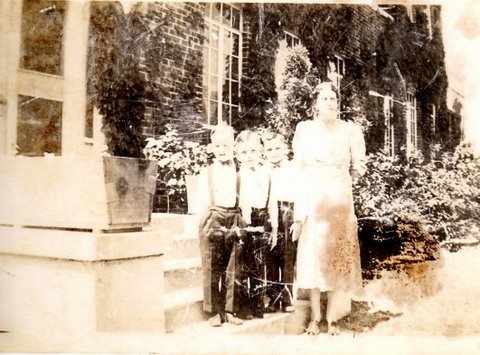 This is a picture (taken at Whitaker Home) of My Grandmother, Carrie Belle Pitner Wyche, with three children: Clifton Finley, W. C. Boaz, and Cherter Garby.
"She was married to my grandfather, John William Wyche, who was half Cherokee. Married for over fifty years and he was about 20 years her senior. They were also second cousins and it was an arranged family marriage where he brought her from Texas in a buckboard into Indian Territory which later would be Rogers County. Of course, I only knew him when he was seemingly ancient and he would tease me in Cherokee...and perhaps also scold me too because I was somewhat impish according to my parents. We never knew exactly when he was born...his grandmother was a sister to Tom Starr of Oklahoma fame and he grew up in the Cookson Hills and knew the outlaw gangs and of course Belle Starr who married into the family. He never was very proud of her however!!! To our knowledge he left home before he was sixteen when his mother died, used to work the ranches and according to our father, he farmed and ran moonshine. My grandmother was the oldest of seven children from a farming community in northern Texas. She helped her mother, who was also a Cherokee healing woman...to raise the younger children so moving to Oklahoma and eventually after raising her own three children, going to work in the Whitaker Orphanage would have been as normal as breathing. Both my father, John Wyche, and his brother Tom Wyche attended dental school in Kansas City and eventually returned to Oklahoma to practice and raise families in southeast Oklahoma. He told me about sometimes riding his motorcycle to the Orphanage from Kansas City and trying to coax his momma to "ride" with him to Claremore but she would refuse...and I wonder why!!! She used to tell me stories about the children when I was growing up and how some were such scamps and some were so loving and she wanted to take them home with her. So often I am sure these stories where to remind me of how lucky we were to have parents and grandparents there for us. My momma told me the first time she met my "grandmomma" it was at the Orphanage....she and Daddy had come down on the motorcycle (a Big Indian) and momma wanted to take two little boys home with her...this was of course before either myself or my brother were born and she decided having two of her own were plenty of trouble!!! From the letters between Daddy and Grandmother, I would suspect that she worked for about ten years perhaps at the Orphanage and then Daddy arranged for them to move to Hugo to be close to him. I feel that I may be a little off on the timeframe all tho I think the Depression was a factor because money would have been an issue for the family and when my dad and his brother were in dental school she was not able to send him money--he worked in gas stations which would be periodically robbed, peddled eggs where they often had only the broken ones to eat that day and then supplemented with a unknown flair for playing and winning at poker...which his momma would never have approved!! That would have been around 1938 or so perhaps. In the letters she would talk about how as much as she loved being with the children, especially the very little ones, her health was not too good, her legs would ache with carrying them around all the time and perhaps that was why he talked them into resettling in Choctaw County. My grandfather died when he was about 100 (we think!!) and she passed away in her mid eighties when I was in college. They both enriched my life so much, with stories of their own lives, their extended family which was always close and very colorful, and just being there to "tell me a story". This is much the lost art in our present society.
She worked in one of the cottages (assuming there really was a "Lilac Cottage") with the younger children and some of the pictures I have are my mother or her with young children on the steps of the institution. My mother and father were newly married and my mother was so taken with the children there, how well cared for they were. She wanted to adopt several, I remember her telling me. I am thinking my grandmother probably worked there from perhaps the early part of the 1920s...maybe until the late 1930s or even early 1940s. She lived in Claremore and would go over and perhaps I suspect was a house parent? My dad was in dental school in the late 1920s and I have letters she wrote him while she was there also. What I especially remember, she always had one hip seemingly higher than the other and she told me that was from carrying the babies around at the orphanage.
Oddly enough, we often come through Pryor on our way back and forth from southeast Oklahoma (we live in Hugo, Oklahoma) to Missouri where we lived for many years and where our children now reside. I always wanted to find the orphanage; never realize it still existed but is now the Thunderbird Academy. What is even stranger, I am a clinical psychologist and have worked with placement of students at risk at Thunderbird but NEVER realized it was the old orphanage and for some reason I had never had to travel for a placement. I hope one of these days to have an opportunity to visit the site."
More Resources
Pictures of Personnel of the Home
Some Information on a Worker
Whitaker Children's Home Links
W.T Whitaker Documentary Pryor Orphanage. 1897 - YouTube

Mayes County Site Search
Mayes County Site Directory
General Information
Links to web sites that are not part of the USGenWeb Project are provided for your convenience and do not imply any endorsement of the web sites or their contents by The USGenWeb Project.
NOTICE: In keeping with our policy of providing free Information on the Internet, data may be used by non-commercial entities, as long as this message remains on all copied material. These electronic pages may NOT be reproduced in any format for profit or for presentation by other persons or organizations. Files may be printed or copied for Personal use only. Persons or organizations desiring to use this material for purposes other than stated above must obtain the written consent of the file contributor.
OKGenWeb State Coordinators