Whitaker Children's Home
Founded in 1881 by Mr. & Mrs. W. T. Whitaker on 40 acres of land located (at that time) "one mile south-east of Pryor Creek, Cherokee Nation, Indian Territory".
After the Civil War, the large influx of non-Indians into the Cherokee Nation created yet another problem. Frontier life being very harsh and primitive, as well as being without adequate medical care, cost many lives of these families. While there were facilities maintained by the Cherokee Nation for the care of the Indian orphans, the question arose as to what to do with the non-Indian children who survived their parents. One, by two,-- by one, they were taken into the household of the benevolently minded W. T. Whitaker family. As "their family" grew, so did the needs. This was the founding of Whitaker Children's Home.
There was also a lack of schools in Indian Territory for non-Indian children. the Whitakers provided for this with teachers, classrooms and training facilities. The Home grew to include 590 acres, and thirty buildings. It was almost self-supporting in providing for their daily needs; a full dairy, raising their own beef, hogs and chickens, planting, raising and preserving food for both the residents and the livestock. As the children grew up they took on their share of the work-load and provided for their younger "Whitaker brothers and sisters".
There was a special building where the older girls learned to sew by making not only their own clothes, but the clothes of the other children who were either young or (in the case of the boys) had other assigned duties.
As the children grew up and left, they left with the blessings of Mr. and Mrs. Whitaker -- and with all of the education and training to become productive and self sufficient adults.

The orphanage facility was accepted by the State of Oklahoma in 1908, and was operated for many years as a home for dependent and neglected children. In more recent times the site has been used as a military-type youth training facility and a satellite unit of Rogers State College, bringing college-credit courses and training to the people of this area.
Many of the former residents maintain communications with other members of the Whitaker Home Family and there have been several reunions held at the facility in recent years.
We bless the Spirits of Mr. & Mrs. Whitaker, for unselfishly giving of their love and care to these children. They looked to "need", -- not to the "color" or "race".
Cemetery
"ERECTED IN MEMORY OF THESE CHILDREN WHO DIED WHILE RESIDING AT WHITAKER STATE ORPHAN'S HOME"
There is a small cemetery that is maintained for the children who died while residing at the home. The original tombstone has been maintained, but is weather worn. The people of Pryor copied the entries and have a new stone located nearby.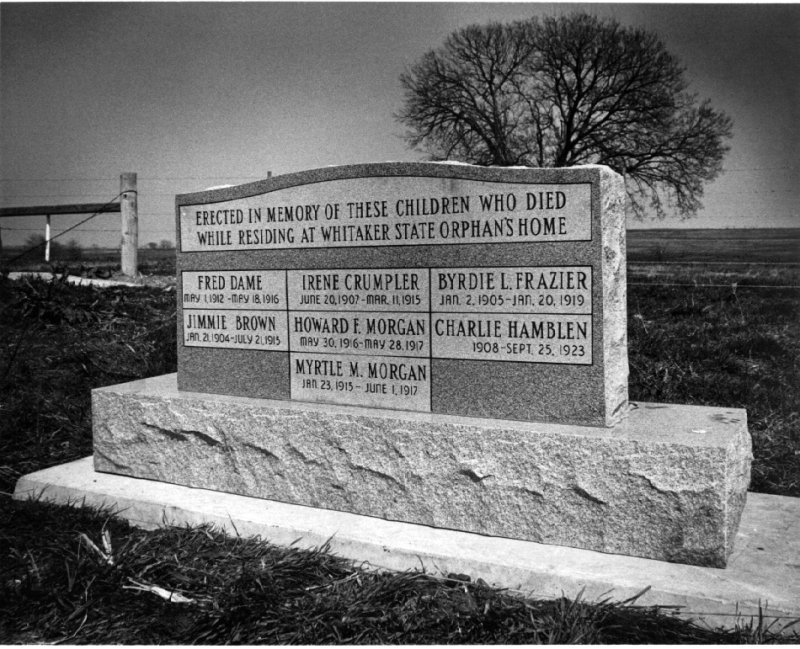 Fred Dame May 1 1912 - May 18 1916
Irene Crumpler Jun 20 1907 - Mar 11 1915
Byrdie L. Frazier Jan 23 1915 - Jan 20 1919
Jimmie Brown Jan 2 1904 - Jul 21 1915
Howard F. Morgan May 30 1916 - May 28 1917
Charlie Hamblen 1908 - Sep 25 1923
Myrtle M. Morgan Jan 23 1915 - Jun 1 1917
More Resources
Pictures of Personnel of the Home
Some Information on a Worker
W.T Whitaker Documentary Pryor Orphanage. 1897 - YouTube
Mayes County Site Search
Mayes County Site Directory
General Information
Links to web sites that are not part of the USGenWeb Project are provided for your convenience and do not imply any endorsement of the web sites or their contents by The USGenWeb Project.
NOTICE: In keeping with our policy of providing free Information on the Internet, data may be used by non-commercial entities, as long as this message remains on all copied material. These electronic pages may NOT be reproduced in any format for profit or for presentation by other persons or organizations. Files may be printed or copied for Personal use only. Persons or organizations desiring to use this material for purposes other than stated above must obtain the written consent of the file contributor.
OKGenWeb State Coordinators