Woods County, Oklahoma

An OKGenWeb/USGenWeb Project


Woods County is available for adoption, if interested please e-mail the State coordinator for details.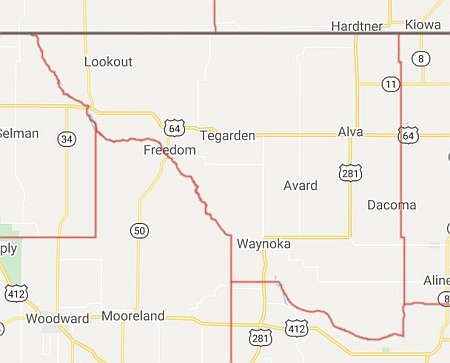 Woods County is located in northwestern Oklahoma, created at statehood from a portion of Woods County, Oklahoma Territory.
The county took its name for Sam Wood, Kansas political leader.
Alva is the county seat for Woods Co. A post office was established August 25, 1893. It was named for Alva Adams, railroad attorney, who later was governor of the state of Colorado.
---
Woods County Courthouse
P. O. Box 386
Alva, Oklahoma 73717
County Clerk has marriage records from 1894;
divorce, civil court, land records from 1893;
probate records from 1901; school records
---
Woods County Genealogical Society
P. O. Box 234
Alva, Oklahoma 73717
---
If you would like to volunteer for a county in Oklahoma, contact Linda Simpson (State Coordinator)
or Mel Owings (Assistant State Coordinator)

 Copyright © 2023 OKGenWeb

Copyright Notice: The creator copyrights ALL files on this site. The files may be linked to but may not be reproduced on another site without specific permission from the Woods County Coordinator, and their creator. Although public information is not in and of itself copyrightable, the format in which they are presented, the notes and comments, etc. are. It is, however, permissible to print or save the files to a personal computer for personal use ONLY.