Carter County was created in 1907 from part of the old Chickasaw Nation.
Pickens County was renamed Carter County in honor of Ben Carter, prominent Native American of the Chickasaw Nation.
Members of the Constitutional Convention chose Ardmore as the county seat because it was the largest town in that section of the new state and the site of a federal court during the territorial era.
The first county officials used office space in the former federal courthouse building, which had been constructed in 1898 for $20,000. It soon proved to be too small for county needs, so in 1909 Carter County residents approved a $125,000 bond issue to purchase land and fund construction of a new building.
The firm of Layton, Wemyss Smith and Hawk of Oklahoma City developed the plans and the job was completed in 1910 by the Gill Construction Company. The design was a rich combination of architectural elements. The dominant style was Neo-Classical, with repetitious use of colossal Doric columns, classical detailing, and an ornate tower and dome.
The tower was decorated with Ionic columns, a ribbed and vaulted roof, and over-sized clocks.
Providing contrast against this classical composition were arched doorways and windows on the ground level.
In 1976 using the design of Flood, Isenberg, and Hann, the entire courthouse was renovated.
Historical Records
Birth records are available from 1908, marriage records from 1907, and death records since 1908.
Land records exist since 1900, while probate and court records are on file in the county courthouse since 1907.
---
Please visit our new photo gallery!

Journal of Carter County Schools for 1923

Photos are being added regularly, if you have photos of Carter County
and its residents and would like to see them included please contact me

---
Message Boards

---
Volunteer Appreciation Message Board
Neighboring counties
Stephens County /Garvin County / Murray County /Johnston County
Marshall County / Love County / Jefferson County
All Oklahoma Counties
---
Carter County Towns
---
The Oklahoma Genealogical Society has a "First Families" application at:
First Families of the Twin territories
An Invitation to Descendants of the Early Settlers of Oklahoma.
If you can prove each generation of your lineage back to an individual
who settled in one of Oklahoma's territories on or before 16 November 1907,
you are eligible for membership in First Families of the Twin Territories.
---
Carter County Resources

Carter County 1997 Queries


Carter County Surnames "A thru H"
Carter County Surnames "I thru P"
Carter County Surnames "Q thru Z"
Carter County Cemetery list
Carter County Cemetery's
Carter County Cemetery, Mount Olive, Healdton
Carter County Saving Graves Project
Oklahoma Gravestone Project - Carter County
Carter County DeHart surname cemetery page
History of the Oklahoma Veterans Center, Ardmore Division
List of Counties, Cities, Public Schools, Libraries, etc...
Carter County Ardmore History
Carter County - Healdton Oil Museum
Carter County War Dead
Carter County World War II Casualties
Carter County Archives
Carter County Churches
Carter County Libraries
Chickasaw Regional Library System
Carter County National Register of Historical Sites
Carter County Vital Records
Carter County Political Graveyard
Carter County Look-ups
Carter County Pictures
Carter County Ghost Towns
Carter County Government
Carter County Assessor's Office
Carter County Biffle Researchers
Carter County - History of the John Carson Hawkins Family
Greater Southwest Historical & Genealogical Society

Chickasaw Nation, I. T.
Official Site of the Chickasaw Nation
The Burney Academy - Chickasaw Orphans Home
Chickasaw Freedmen Background
1890 Oklahoma Territory Census Index


Wilson City 1920 Census Image page 1
Wilson City 1920 Census Image page 2
Officers Killed in Carter County In the Line of Duty
Bud Ballew - Famous Indian Territory Lawman of Ardmore & Carter County, Oklahoma
Carter County Overview, population characteristics, etc...
Ardmore Army Air Field
William I. Kincade
Carter County Genealogical Society
35 Sunset Dr.
Ardmore, Okla. 73401

---

Cemeteries / Churches /Libraries / Look-Ups / Photographs / Queries Submission / Queries / Queries 1997 / Surnames /

---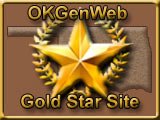 Thank you to Harold D. Massey,
who maintained this site for many years
©2008 - Present
All Rights Reserved