Welcome To

Dewey County
OKGenWeb Project
History of the Area
Dewey County is located in west-central Oklahoma covering 977 square miles, comprising the same area as Dewey County, Oklahoma Territory. Part of the Cheyenne-Arapaho lands opened April 19, 1892 as "D" county. Named for Admiral George Dewey. Taloga is the county seat. The first post office was established March 22, 1892. Although there are several versions of the origin of the Taloga name, it is probably from the Creek word meaning "rock in water" and has reference to the original boundary of the Creek nation. The South Canadian River winds through. The river sands made difficult crossings for early pioneers. Early settlements were Butte, Camargo, Lenora, Raymond, Rhea, Riley and Taloga. Present towns are Camargo, Leedey, Oakwood, Putnam, Seiling, Taloga, Vici.

Cheyenne-Arapaho Lands



County Coordinator, Susan Bradford

Neighboring Counties
Custer, Blaine, Major, Woodward, Ellis, Roger Mills




1920 Census Images for Dewey County, OK
http://usgwarchives.org/ok/dewey/1920census.html

The donation of the 1920 Dewey County Census images for permanent, free display in the USGenWeb Archives was made possible through the generosity of Glenn Belcher and the permission of S-K Publications http://www.skpub.com/genie/.
The name of each image file is the Enumeration District and page number. The 1920 Dewey County, OKCensus contains 263 pages (census images) in Enumeration Districts 203 through 207. Page 208-05B was not copied , as it is blank.
Tired eyes viewing census images? Try Virtual Magnifying Glass for Windows - magnifying freebie - small file size
| | | | | | | | |
| --- | --- | --- | --- | --- | --- | --- | --- |
| Year | 1907 | 1910 | 1920 | 1930 | 1940 | 1950 | 1960 |
| Pop. | 13,329 | 14,132 | 12,434 | 13,250 | 11,981 | 8,789 | 6,051 |

1996 Census Profile
Dewey County Township Map by Sharon Crawford
Maps & More by Sharon McAllister
Dewey County 1972 at Maps & More
Dewey County 1915 at Maps & More
Dewey County townships at Maps & More
Dewey County towns at Maps & More
(Dewey) "D" County 1895 map
1890s County Officers


Some Dewey County Marriages 1892-1902

"D" County Marriages lookup
Dewey county Newspapers at Oklahoma Historical Society
Dewey County OkGenWeb Archives
Dewey County Historical Society
Spanning The Rivers


Volume 2 of

Spanning the Rivers

available.


Dewey County BOOKS FOR SALE



Towns

Aledo Post Office 1899-1954


Camargo
Ben Axton, 1937 Pioneer Interview


Cestos


Fay


Leedy
Leedey Tornado, May 31, 1947
Leedey photos


Lenora


Oakwood


Putnam
Schools at Burmah, LoneTree, Putnam
Linville and Herring families


Rhea
History of Rhea, by Ken Speer


Seiling, OK (KWTV's Strangely Named Towns)

Seiling's First Fire 1912
Seiling Historic Mural
Seiling 1918 Baseball
Seiling High School Seniors 1925
Seiling High School grads 1936
Seiling High School Seniors 1939
Seiling High School Seniors 1952 New
Seiling High School Seniors 1954


Taloga
Bremer and Alden family, Taloga
Taloga Photos
Photo page2, Taloga hotel and school
First Lots, Taloga 1892

Dewey County Courthouse Staff 1923


Vici
Vici school photo
Vincent Family of Vici




Dewey County Place Names: Townships, Post Offices

Dewey County Physicians 1903-1904

Dewey County Death Records
Obituaries

OKbits Dewey Co. News

....

Cemeteries & Funeral Homes

U.S. Military Casualties from Dewey County

1891 Schedule of Allotments Cheyenne-Arapaho Reservation - Native American Research Project



Abercrombie family trek to Fay, Oklahoma 1893

Dewey County Tornadoes 1875-2010

Rootsweb Dewey County Resources

National Register of Historic Places, Dewey County

Western Plains Library System
Dewey, Custer, Washita, Roger Mills Counties

Dewey County research at Woodward Library

Trail of Dreams, Taloga info

Search Dewey County OKGenWeb



OKGenWeb/ITGenWeb is part of the USGenWeb Project. Links to web sites that are not part of USGenWeb Project are provided for your convenience and do not imply any endorsement of the websites or their contents by The USGenWeb Project.

It is the policy of The USGenWeb Project to obtain permission from the creator of the code, graphics, and backgrounds before using them on our pages.

OkGenWeb

How to Volunteer for OKGenWeb

Oklahoma County All List

OkGenWeb Resource Page

Oklahoma Ghost Towns
Oklahoma Post Offices

Oklahoma Military Veterans and History

Oklahoma's Orphanages & Institutions
Oklahoma Poorhouse History
OK-Orphanages Archives

OK Birth Certificate Forms
OK Death Certificate Forms

Oklahoma Funeral Homes
Oklahoma Cemeteries

Social Security Death Index at Rootsweb

Oklahoma Reunions
Oklahoma Newspapers Online
Oklahoma Mail Lists
Scanned Original Land Records at Bureau Land Management
Map: Federal Tract Books Homesteads in Oklahoma
Oklahoma County Formation Maps
USGS Mapping

Maps & More by Sharon McAllister

Search The Roots-L Surnames

Oklahoma Surnames Registry
Cyndi's List of Genealogy Sites: Oklahoma
Oklahoma Libraries Online
Oklahoma Genealogical Society
Oklahoma Historical Society
Indian-Pioneer Interviews, OU Western History Collections
Standard Medical Directory 1903-1904 Oklahoma
United States Resources: Oklahoma

National Archives - Southwest Region

Beginners Guide to U.S. Federal Census
USGenWeb Special Projects
Family Publications, History Publication,
Journals and Letters, Military, and Photo Collections

1915 Map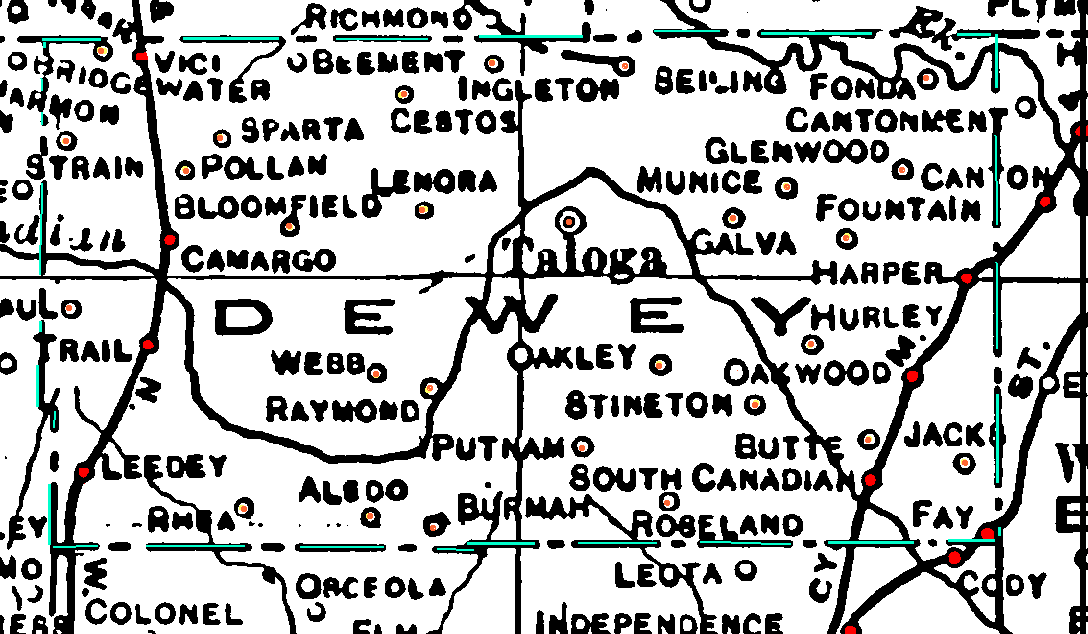 Corene Seal 1940-2009
was a Dewey County Historical Society volunteer answering queries addressed to the Historical Society and helping with the Dewey County Jailhouse Museum and other projects of the Historical Society. Dewey County OKGenWeb extends sympathy to Corene's family and friends.