<![if !vml]>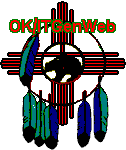 <![endif]>

Pawnee County, Oklahoma Area Queries
Welcome to the Query section of the Pawnee County, Oklahoma Home Page. This area is only for queries on ancestry from inside Pawnee County, Oklahoma. If you have ancestry that came from counties surrounding Pawnee County, please use surrounding Pawnee County query list. If you have ancestry that settled in Pawnee County from outside Oklahoma, please use outside Oklahoma queries.
---
Rhonda Nuckles Budge - 11/11/96 looking for any information on a Hedrig Ehn. Believe she went by the name of Hattie. Settled in Blackburn, Oklahoma in 1890-1900. Not sure of married name. Father was Andrew G. Ehn who moved to Blackburn to live with her in November 1905. Mother was Mary Jacobsen Ehn. Any information on Andrew, Hattie or any "Ehn" family members is appreciated.
---
Shirley Dunaway Vachon - 12/02/96 Looking for info and dates on marriage of Launa J. Dunaway and Davis J. Mackey around 1897 had 3 sons Everett C., Robert A. and Irven. Irven died in the Air Service do not know year but had a picture of his burial and the flowers cover the date of his death.
---
Judith B. Glad - 12/02/96 Nellie HOLMES and her children, Hannah Luella, Jeremiah Conway, Thomas Lyons, and Hattie Lenore, lived in Ralston, Pawnee County, from about 1900 to 1915. As far as I know, Luella married Wilson L. JONES whole they were living there. I am interested in anything about them, but particularly information concerning the marriage of Luella and Wilson Jones. Luella may have been a postmistress somewhere in the county, or perhaps it was Wilson Jones who was the postmaster.
---
Shirley Dunaway Vachon or Andrew Dunaway - 12/23/96 Looking for info and dates on marriage of Launa J. Dunaway and Davis J. Mackey around 1897 had 3 sons Everett C., Robert A. and Irven. Irven died in the Air Service do not know year but had a picture of his burial and the flowers cover the date of his death.
---
C. Ford - 01/13/97 Almyra (Eckerson) Campbell, wife of Alonzo Campbell, d. Skedee, Ok. c. 1911/12. Pawnee Times Democrat of July 13, 1911 reported: "Mrs., Isaac Atkinson of Hominy came in Saturday to be at the bedside of her mother, Mrs. Campbell, living north of Skedee. Need death date for Almyra?
---
John Foust Sr. - 01/20/97 any information on John Anthony Foust. Settled in the horseshoe bend near Ralston and raised his family around l900 he is buried in the old Ralston cemetery.
---
Iris Lee - 02/24/97 Albert Alford LEE (aka Allie Lee) b 1882 d 1947 in Wichita, KS. Married (1) Mabel POLLOCK Nov 8, 1902 in Pawnee, Ok. . They had at least one child and were Divorced by 1910. Albert was son of Mary Ann (CARTER) LEE who lived in Pawnee, Ok. What happened to Mabel and child? Does anyone know of POLLOCK family in Pawnee in early 1900's?
---
Chuck Davidson - 03/10/97 Need Help: On Hutchison, Hutcheson, and Hutchinson's in Pawnee and surrounding counties... Looking for info on John M C Hutchison born 1832 and his brother Joshia Hutchison born 1830..It is said that the two brothers made their way down from Ill through Tenn. and Missouri and settled in Lawrence, Douglas Co, Kansas.. Any information, no matter how small or how large would be greatly appreciated.
---
Bob Jefferson - 04/07/97 I'm researching Wm. L. Hutchinson who is buried at Hallett, OK. He and Mary Josephine Fritch were married in Chillacothe, OH in 1850 and had 6 children. All seem to have wound up in Ok except the youngest son Tom. Wm. was b1824 in Eng. and d1889. Mary was born about 1825 and died aft 1869. I have most of the info on their descendants but who were the parents of Wm. and Mary? And, what about brothers and sisters? All help appreciated.
---
Paula Yount - 04/07/97 I am hoping someone can help me locate information, especially a death date & obit for IDA M. (MORRIS) HEPPLE, daughter of Eli and Martha (Alred) Morris, born in MO about 1873, married Louis W.F.HEPPLE 3 Aug 1890 in Linn Co. MO. She was a resident of Skedee, OK in 1938 at the time of her older sister's death, but by 1942, she was not listed in another sister's obit, so assume she died between 1938 and 1942. It is also possible that she had a brother Charles, who may have lived nearby, as he was also a resident of OK. I do not know if Ida's mother was there as well, but it is a possibility. Any information would be greatly appreciated!
---
Charlotte Baruch - 05/05/97 I'm looking for information about my maternal grandparents, James W. and Mary Alice Bowman who lived in Pawnee from around 1902 to the late 1930s. He was a blacksmith. They had 6 children and at least two of them died in Pawnee. If you have knowledge of this family I would appreciate hearing from you. Thanks.
---
Ann Walker Storer - 05/12/97 looking for info on Audie and John Lawson/cousins who lived in Pawnee co.
---
Ella E. Smith - 05/19/95 I am researching the following families which resided in Pawnee Co. and Noble Co. Oklahoma. Elijah Jackson Smith wife Isabell S. Parrack and James Rector Little wife Annie Mollie Messer. Anyone researching these families I am willing to share information and correspond with you.
---
Chuck Davidson - 06/09/97 Need help on Marion Wallis Hutcheson and his wife Atha Mae Hill. I've been told they had four children in this union. Need their names, birth dates, death dates and etc. Any and all help will be greatly appreciated. Have much material on this line of Hutcheson's and will gladly share with you.
---
Shirley Dunaway Vachon - 06/23/97 looking for someone who has easy access for the 1910 Census in Pawnee Oklahoma. Davis J MACKEY had a family there and his sons were Everett, Irven and Robert. Can anyone help me please?? Thank You!!!!
---
Jennefer Leach - 07/07/977 I am looking for information on my father grandparents. His grandfather John Poole is buried in Blackburn, OK. His wife's name was Lulu Poole. She was Native American, she was adopted by a white family, and her Native American surname was Skelton. Her adopted white name was McDonald. They were moving to Tennessee in the 1918's and John drowned in a river on the way and was brought back to Blackburn to be buried. She moved to Tennessee with her children and married a Smith. I have information on the Poole side of the family; I have attended a family reunion in south east part of OK. I would like any information on the Skelton's or McDonalds, particularly any Native American information.
---
Eddie Davis - 07/21/97 I'd like to post a query on the Pawnee web page. The following is ALL the information that I have on this family, and I apologize for the lack of dates. John Wesley Davis and his wife Sarah Ann (Peters) Davis came to the area around Ralston or Fairfax sometime before 1930. They came from Springfield, Greene County, Missouri. John and Sarah were farmers but also had taught math when younger. John drove for the US Mail and as a boy had been injured while chopping wood and had one leg amputated. Their children were: George Alfred Davis, Matilda Davis and a daughter who died at age 11. Sarah may have been born in Texas, as her father and brothers were said to have been Texas Rangers. One brother was Jody Peters. John Wesley Davis died in 1930 in either Osage or Pawnee County, Oklahoma. This is all I know on this family. Any information would be appreciated. Eddie Davis
---
Harriette Jensen - 07/21/97 I am seeking information on my g-grandmother's brother, Dave HATFIELD, who lived in Pawnee until the 1920s or 30s. He was married to a woman named Artemesia ("Mish") who was said to be Choctaw and ran a horse ranch in Pawnee County. Dave was also said to have worked on the 101 Ranch.
---
Norma Brashear - 08/04/97 I am looking for information on George Franklin LEWIS, b.26-Feb-1875 in Caldwel, Ks. d. 22-May-1949; m. Maratha Margaret (Maggie) Vermillion, b.29-Dec 1879 d. 14-June-1948. They had two children: 1. Lola Mae b. 28-June-1903 d29-Aug-1984, 2. Zada b. about 1911-1913.this child lived about ten days and I think she is buried in the Noble Cemetery. This family lived in Cleveland many years. George was a leader in the Boy Scouts of America and was awarded the Silver Beaver award for his leadership in 1933. A part of the land the scout camp, Will Rogers Boy Scout Reservation, was acquired from Mr. Lewis. My mother Lola Mae Lewis Berry graduated from the Cleveland High School in 1920 and went on to college in Norman, Ok. Also researching names Stovall - Dodd - Lucas - Berry -Vermillion.
---
Beverley Shackelford - 08/11/97 MUSGROVE/BARNES -- Searching for information on Benjamin MUSGROVE, born April 20, 1829 probably in Alabama and Elizabeth Frances BARNES, b. Oct 1834, in Indiana. Benjamin and Elizabeth BARNES moved with their family to Pawnee County about 1887. Benjamin celebrated his 85th birthday on 30 April 30, 1915 in Pawnee Co. and died in 1917 in Oklahoma. Benjamin and Elizabeth MUSGROVE had 10 children, 8 sons and 2 daughters. Their sons included: Charles William MUSGROVE, b 22 Jan 1852 in Indiana, Cyrus Martin MUSGROVE, b Jan 1862 in Iowa, d March 1914 in Oklahoma John H. MUSGROVE, b about 1867 in Iowa, died after 1914 Joseph L. MUSGROVE, b about 1867 in Iowa, died after 1914, Carlton M. MUSGROVE, b about 1870 in Iowa, Benjamin P. MUSGROVE, b aft 1870, James MUSGROVE, b aft 1870, lived in Sabetha, KS in 1914 Cyrus MUSGROVE married Viola?. There children were: Isom MUSGROVE (b Sept 1887 in Kansas); Hannah MUSGROVE (b March 1888 in KS); Sanford MUSGROVE (b Jan 1889 in Indian Territory); Iona MUSGROVE (b July 1893 in Oklahoma); Elma MUSGROVE (b Feb 1895 in Indian Territory); Iola MUSGROVE (b May 1897 in Indian Territory); and another child born in Nov. 1899 in Oklahoma. I am interested in all information about the ancestors and descendants of this family.
---
Beverley Shackelford - 08/11/97 searching for information on the family of Benjamin MUSGROVE (b. 20 April 1829 or 1830, d. 14 Oct 1917 in Pawnee) and his wife, Elizabeth Frances BARNES (b. 13 Oct 1835, d. 10 Jan 1930 in Pawnee). Benjamin and Elizabeth MUSGROVE moved to Pawnee Co. about 1887 from Osborne County, KS. They had eight sons, son of whom accompanied them when they moved to Oklahoma. Their son, Benjamin Philip Musgrove was born 14 Jun 1876 in Kansas and died 29 Aug 1951 in Pawnee County. His wife, Libbie, died in Pawnee 10 Dec. 1906. I would appreciate any information about the ancestors or descendants of the MUSGROVE family and will share information.
---
Suann Moore - 08/18/97 I am researching my grandfather, Gerhard Christain Fischgrabe's, family. They moved to Pawnee County sometime between July 11, 1893 and Sept. 8, 1894. Sept. 8, 1894 is the documented birth of his sister Maria (Mary) Elisabeth Fischgrabe, born in Pawnee County. Other siblings born in Pawnee County included Heinrich Friederich Fischgrabe, born April 3, 1897, and Meta Elisabeth Fischgrabe born Mar. 20, 1901. The family then moved to Beaver County some time before the last child, Ora Prisilla Fischgrabe was born on Jan. 17, 1907. Thank you for any help you might be able to give to me.
---
Tammy Steele - 08/18/97 In search of my g- grandfather James David Owen/s. I have just his name and that he was from Oklahoma, Pawnee County area.
---
Major Chip - 09/29/97 looking for information on parentage, birthdate and birthplace of John Manson Michael, father of A Michael, Oscar Michael, and Lafayette Willard Michael.
---
Earline B. Stewart - 10/06/97 searching for information regarding Nicholas Daniel (N.D) JACKSON and Mary Elizabeth STILLWELL. Nicholas Jackson had a general store in Jennings, OK for many years. Both N.D. and Mary are buried in the Jennings Cemetery. A daughter, Bessie JACKSON married Colonel Ellsworth BRANNON, son of Thomas Jefferson BRANNON who had a pool hall in Jennings.
---
B. Collins - 10/13/97 I am search for some information for my son Cory Dale Collin Shelvey. His great- grandparents lived in Oklahoma their names were, Nellie May Flowers, Archie Therman Helvey. He has registration # but it is not complete. If anyone could help with finding where to go to complete this # please let me know.
---
Cher Ross - 10/20/97 I am looking for information on the Joseph A. SPENCER family that settled near Maramec. Joseph Spencer is buried in Maramec Cemetery and would like to know if there is a death certificate or obit notice for him around January 31, 1933. His children were: Katie Lee, Ida, William, Cory, Maude, Mertel, Rebecca (Pearl), and Joe.
---
L. Barker - 10/27/97 Larry Barker. Seeking obit. Or information on WATERS, George b. 15 Mar 1894 d. 1967 Pawnee, OK. He received SS benefits checks in Pawnee. Would like to know place of birth, parent, and descendants. Any information will be sincerely appreciated.
---
Judy Bowman Rhodes - 10/27/97 Blackburn area families: 1890s-1920; BOLT, PEARSON, BEAVER, TWYFORD, LUCY. Bolts, Pearsons and Beavers later moved to Hominy area of Osage County where descendants remain to the present time. All these families are connected by marriage, have Bolt & Pearson genealogy back to VA early 1700s; Lucy genealogy back to England ca 1066. Beaver genealogy back to Arkansas, and earlier. Will be happy to share with anyone researching these lines.
---
Rose Adams - 11/10/97 I am looking for information on Benjamin Franklin ADAMS and Lodusky Jane Cummins ADAMS. They lived in Pawnee and show up on the 1910 census. Their grandson Willis Adams was with them. I am trying to find out where they died and were buried. In 1920 they had a grandson born by the name of Scott Marion ADAMS, his father was Willis Raymond ADAMS his mother was Mildred Dorthea Larsen ADAMS. But he was born in Fairfax, Osage, Oklahoma. I wonder if the boundaries changed or if they moved at their age. I need to know about cemeteries there. If anyone can help, I sure will appreciate it.
---
Martha Pearson - 11/24/97 L. McMahon (11/22/97)--We have traced our relatives Thomas Peter Wynn and Mary Jane Howard Wynn to Blackburn, Pawnee County, OK. They were born somewhere in Missouri and probably immigrated to OK about 1885. Mary Jane died in 1927 and Thomas died in 1938. They owned a hotel/restaurant. We would like to find out the name and location of the restaurant and possibly obtain photos. Also, would like to make contact with anyone else researching the Wynn or Howard lines.
---
Anne Sears - 12/08/97 searching for information about Joseph H. Cox. He was born in St. Johnsville, NY, 1842, came to Kendall County, IL, in 1844. He served in the Civil War, held prisoner at Andersonville. He married 1st, Alice Green, 25 Apr. 1865 - 2 children. They divorced and he moved west. He married 2nd, Emma -- ca. 1890 and they had 4 children, Jennie, b. 1896, Benjamin, b. 1901, Albert, b. 1905, and Julius, b. 1910 (1910 Census). In 1912, he was living in Skedee, Pawnee County. I would like to know anything about what became of him or his family.
---
Peggy Goochey - 12/15/97 I am researching my Bushorr/Bouchard ancestors. My g-g-grandfather was Nelson Bushor (Narcisse Bouchard in Canada before coming to OK). He died in 1905 or 1906 in Pawnee. I think he is buried there. His wife's name was Sophie (Beaumier) Bushor. They several children, among them was a son named Clair A. Bushorr. I think Nelson was a building contractor in that area. I am searching for any information any one has on these people.
---
Wanda Havlick - 12/29/97 Searching for information Rufus A. MESSMORE, b. Pawnee County 1875-85, or any other MESSMORES anywhere!
---
To view the archived queries for, 1998, 1999, 2000, 2001, 2002, 2003 or 2004, 2005 or 2006 please click the appropriate year.
All comments, additions and suggestions to expand or improve this page are welcome and will be responded to.
This page is a free service to all Family Historians who are currently doing research in the Pawnee County, Oklahoma area. This page is part of the USGenWeb Project. If you have an interest in supporting an unadopted county of Oklahoma that is listed on the Oklahoma home page under the counties list, you can volunteer to sponsor that county home page by contacting the Oklahoma State Coordinator Linda Simpson or Assistant State Coordinator Mel Owings for further information. Please send comments, suggestions or updates for this page to Robert Gale Fender.
---
Copyright 2006 by Robert Gale Fender
LAST_MODIFIED: 29 February 2020